Rear Admiral David Hahn
Senior Vice President of Engineering and Technical Services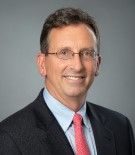 Rear Admiral David Hahn, U.S. Navy (retired) is the senior vice president, engineering and technical services. In this role, he has responsibility for over 600 nuclear professionals engaged in corporate and site engineering, major fleet projects and nuclear fuel procurement for the nuclear fleet.
Hahn joined Entergy in September of 2020 as vice president, nuclear independent oversight.
A native of Tampa, Florida, Hahn graduated from the U.S. Naval Academy with distinction in 1985, earning a Bachelor of Science in mechanical engineering. Additionally, he holds a Master of Business Administration from George Mason University and has completed the Massachusetts Institute of Technology Seminar XXI program in international security affairs.
Prior to command, he served at sea aboard USS Casimir Pulaski (SSBN 633), USS William H. Bates (SSN 680) and USS Springfield (SSN 761), deploying to the North Atlantic and Western Pacific, as well as conducting several strategic deterrent patrols. Ashore, he served as flag lieutenant to superintendent, U.S. Naval Academy; squadron engineer, Submarine Development Squadron (SUBDEVRON) 12; action officer, Joint Staff in the Command, Control, Communications and Computers (C4) Directorate; and legislative fellow on the staff of U.S. Senator John Warner.
Hahn commanded the USS Pittsburgh (SSN 720) from September 2003 to January 2007. In command, he deployed to the Caribbean Sea and Pacific Ocean and conducted an Engineered Overhaul in Portsmouth, New Hampshire.
He became an acquisition professional in 2007 and served as joint test and evaluation test director and program manager, advanced submarine research and development, and served as major program manager, submarine combat and weapon control systems program. Hahn's first flag assignment was as the senior technical advisor to the deputy chief of naval operations for information warfare/director of naval intelligence. In November of 2016, he became the 26th chief of naval research with concurrent flag responsibilities as director, innovation technology requirements and test and evaluation.
Hahn retired from active duty in May of 2020.
Updated July 2022