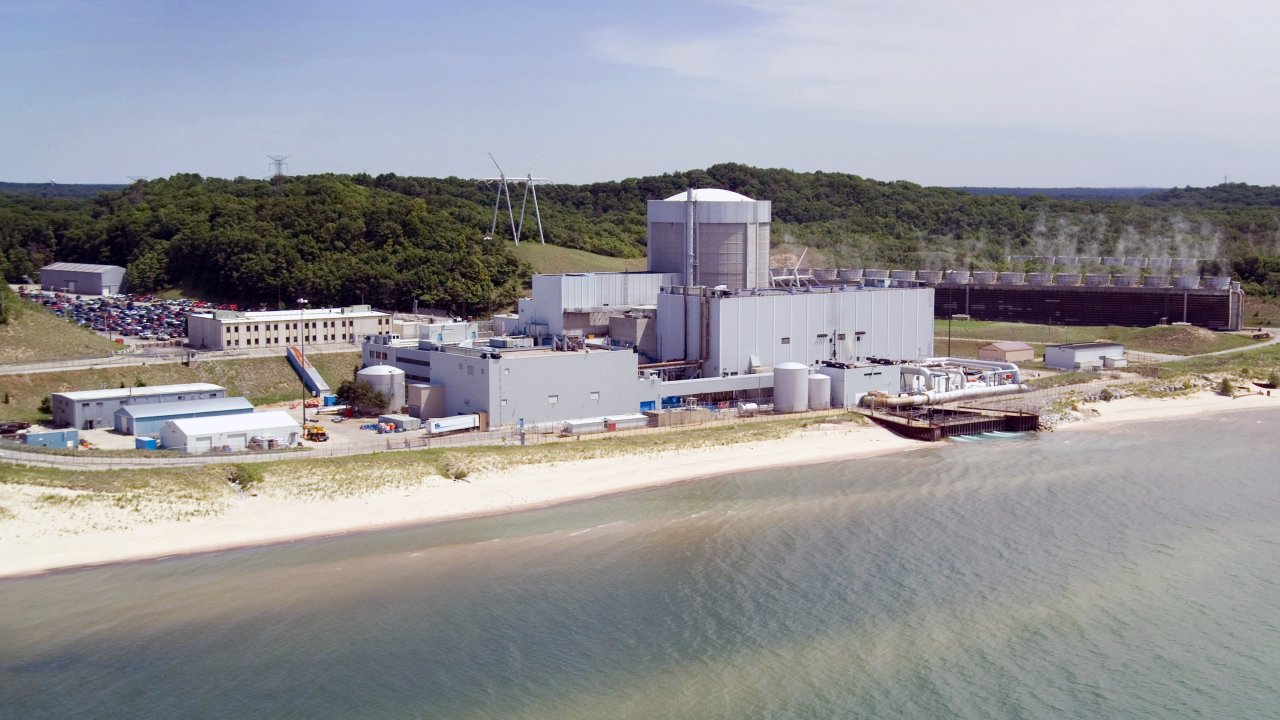 Entergy's Palisades Power Plant has been generating electricity safely, reliably and cost-effectively since December 31, 1971. On April 11, 2007, Entergy completed the plant purchase from Consumers Energy for $380 million. The purchase also included receipt of the used fuel at Consumers' decommissioned Big Rock Point Nuclear Plant, located in Charlevoix in northwestern Lower Michigan.
The Palisades site covers 432 acres in western Covert Township, Van Buren County, Michigan, which is located approximately six miles south of the city of South Haven and 45 miles west of the city of Kalamazoo.
In 2017, Entergy announced that it planned to close Palisades in the spring of 2022 due to a number of financial factors. The closure also coincides with the expiration of the plant's 15-year power purchase agreement with Consumers Energy.
In 2018, Entergy announced it had agreed to sell the subsidiaries that own Palisades and the Pilgrim Nuclear Power Station in Plymouth, Mass., after their shutdowns and reactor defuelings, to a Holtec International subsidiary for prompt decommissioning. The sales include the transfer of the licenses, spent fuel, and Nuclear Decommissioning Trusts as well as the site of the decommissioned Big Rock Point Nuclear Power Plant near Charlevoix, Mich., where only the Independent Spent Fuel Storage Installation (ISFSI) remains. The transactions are subject to closing conditions, including approvals from the U.S. Nuclear Regulatory Commission, which have been obtained.
Palisades is scheduled to shut down on May 31, 2022.
Palisades Power Plant
Covert, Mich.

 

Owner:

Entergy Nuclear Palisades, LLC

Maximum Dependable Capacity:

777 MW

Reactor Type:

Pressurized Water Reactor

Reactor Manufacturer:

Combustion Engineering

Turbine Generator Manufacturer:

Westinghouse

Architect/Engineer:

Combustion Engineering

Commercial Operation Date:

12/31/1971

License Expiration Date:

3/24/2031

Cooling Water Source:

Lake Michigan via mechanical draft
cooling towers

Number of Employees:

600

Counties included in Emergency Planning Zone:

Allegan, Berrien and Van Buren
Learn more about Palisades Power Plant: www.palisadespower.com
Facebook: EntergyPalisades
Twitter: @PalisadesEnergy